Look, I ripped into you a little bit in my previous post, Earth. Sorry buddy. You've actually been pretty good to me, on the whole.
So to be fair, and impartial, I think it is best to present the counter argument. Earth is a pretty fucking cool place.
Here are a few reasons this planet is fucking awesome.
1. TECHNOLOGY
Technology makes my life complete.
It is my work. It is my play. It is my night. It is my day. Look, it even inspires me to be a shitty poet.
With the internet and smartphones, we now have the world at our fingertips. Time spent seated on the porcelain throne has never been more productive.
I am however, sad to report that the Time Machine will never be invented. Someone would have come back to let me know by now, surely.
That being said, we've come a long way, and rapidly. Every year, things get faster, have greater capacity and are more efficient – while also getting smaller.
Here's a fun fluff piece about how today's smartphone packs in all the technology (and more) offered in a full-page Radio Shack ad from the early 90's.
http://consumerist.com/2014/01/17/the-smartphone-has-effectively-replaced-all-the-technology-offered-in-this-1991-radio-shack-ad/
These technology advancements in the last 40 years or so, have rapidly increased globalisation. It has changed the way the world operates, which for my industry – gaming – has revolutionised the way we interact. You can sit at the virtual felt across from a laggy Scandy, a mad Russian (most likely several, mad Russians), a handful of crazy Asians and a rock from Gibraltar.
With respect to globalisation, how long until we have a global currency? 50 years? 100 years? Or do we already have it in a cryptocurrency like Bitcoin?
And how long until we have a global language? It is likely to be English. But how soon until it happens? Could it be Esperanto? It's now the 64th language feature in Google Translate… and it could solve the whole O-U-G-H (through, tough, bough, cough, dough, thorough, ought) torment we inflict on all ESL's. Actually, the truth is that we can pronounce the combination "ough" in at least eight different ways. "A rough-coated, dough-faced, thoughtful ploughman strode through the streets of Scarborough; after falling into a slough, he coughed and hiccoughed." No wonder everyone hates the English.
Anyway, what was I saying? Oh yeah. Technology. Get on it.
2. MIRANDA KERR
Seriously, Legolas?  For an elf with such perfect vision, how could you possibly let go of such a perfect vision?!
Such a shame too, I always thought they had the perfect hyphenated surname.  Kerr-Bloom!
But kudos to Orlando for recently taking a swing at Bieber as a result of innuendo over the lovely Ms Kerr.  Damn I hate that kid.
3. THIS GUY, AND OTHERS LIKE HIM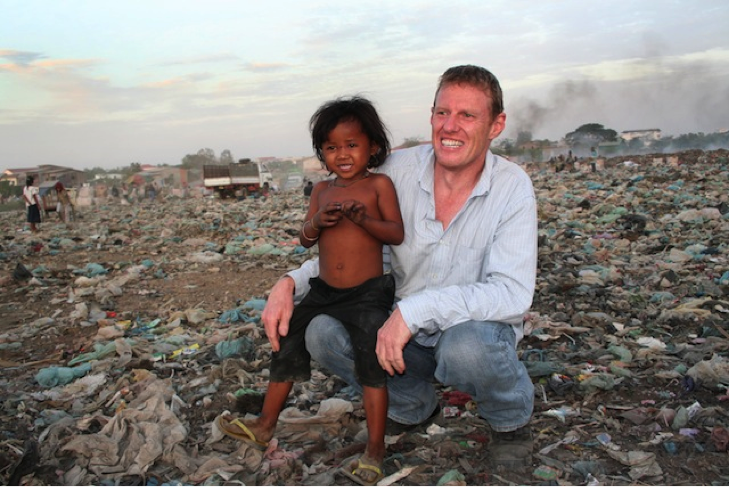 Scott Neeson.
The former Hollywood Executive's eyes were opened to the abject poverty and helplessness of post-war Cambodia during a trip to visit Angkor Wat in 2003. He was on a mini-sabbatical between leaving his post as president of 20th Century Fox International and starting at Sony Pictures when he visited the sprawling landfill of Steung Meanchey, a poor shantytown in Cambodia's capital, Phnom Penh.
Neeson saw a girl, dressed in rags, picking through syringes and broken glass. Her name, he learned through an interpreter, was Srey Nich. She was 9 and lived in the dump with her mother and younger sister. There they collected scrap that could be recycled, and they sold it to buy food. "How could anyone survive here?" Neeson recalls thinking. "I couldn't look away." He was shocked by what he saw, and pledged to return.
His epiphany came in June 2004. He had returned to the dump, true to his word, when he got a call on his mobile phone. It was an agent whose movie star client was having a meltdown before boarding his private jet because it apparently wasn't properly stocked with his favourite amenities. According to Neeson, he overhead the actor in the background ranting, "My life wasn't meant to be this difficult!"
Neeson was standing ankle-deep in trash, trying to help children sick with typhoid at the time. "The child I was holding was extremely sick, and here's this movie star yelling about how difficult life was," says Neeson. "If I needed a sign, that was it."
So the Hollywood executive, who oversaw films such as Titanic and Braveheart, gave up his million dollar salary, sold his house, his possessions, his Porsche and his yacht and moved to Cambodia to start a children's charity, the Cambodian Children's Fund.
Cambodian Children's Fund provides life-changing education, nourishment and healing to vulnerable children from some of Cambodia's most destitute communities. Today they care for more than 2,000 students and 10,000 people annually after extending their services to provide to entire families and communities in crisis.
https://www.cambodianchildrensfund.org/
Check it out – brilliant stuff. Maybe throw them a donation. Or two.
4. WINE
Oh how I love thee.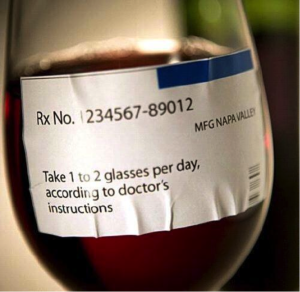 No, not you, Merlot, sit the fuck down.
My thanks to the ancients, for stumbling upon the virtues of fermented grapes – reputedly as early as 6,000 BC. Apparently they observed birds getting giddy on the fermenting fruit, and tried it for a lark (pardon the pun). Well met, my tipsy Stone Age friends.
And even more thanks go out to the Romans for refining the craft. Renowned Roman reporter of the time, Gaius Plinius Secundus – better known as Pliny the Elder – wrote in 70BC "In Vino Veritas". "In wine, there is truth".   I have to agree with ol' Pliny. Although it can be a bit too truthful at times, as I have discovered the following day after a few too many glasses of truth serum the night before.
But even that Jesus fellow reportedly turned water into wine. What really bugs me is not that his secret died with him, but that when he was resurrected, no one thought to ask him how he did it. You had forty days, you nincompoops! He broke bread with you. He took a walk in the countryside with you. Heck, he even went fishing with you. And yet no one thought to ask?! Sigh. I blame you, Doubting Thomas. Then again, Jesus may just have been a bit closed-shop. You don't become the world's most famous magician of all time, if you give away the secrets to all of your tricks…
What is truly wonderful about wine, is that it gets better with age, as does its value. The same cannot be said about the items slowly congealing in my vegetable crisper.
In fact in 2010, divers exploring the wreck of a schooner sunk in the Baltic Sea between Finland and Sweden discovered a total of 162 bottles of champagne, mostly intact. The bottles were dated from between 1825 and 1830. Of these 162 bottles, 79 were still drinkable, preserved as a result of the horizontal way they landed, and the cold Baltic waters.
In 2011, one of the shipwreck bottles, a rare Veuve Clicquot Champagne was auctioned for €30,000. What is remarkable about these bottles, is that they were actually produced under the watchful tutelage of the famous widow, Madame Clicquot herself (veuve meaning widow in French, and from whence the name change originated. It was simply Clicquot Champagne before that).
Madame Clicquot. What a handsome, handsome woman…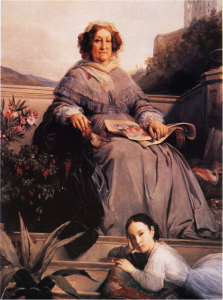 Did you also know it was safer to drink wine during the Black Plague than water? Me neither, but I'll drink to that *clink*. Here's to avoiding the plague.
And next year marks 50 years since South Australia invented boxed wine.   Maybe that's not so much of a brag, but it is an interesting fact. No you're right. It's neither.
Where was I? Oh yeah, stay outta my booze!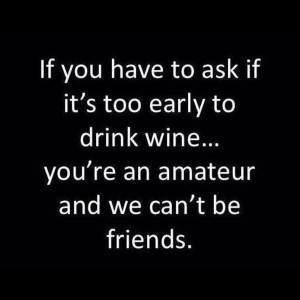 5. SCIENCE
I fucking love Science! Seriously, you should "Like" that page on Facebook. It's hilarious. And you learn stuff.
Man has always had a thirst for knowledge. From Galileo the astronomer and physicist who inspired Queen's Bohemian Rhapsody, to Brian May the guitarist for Queen who is also an astrophysicist.
Hats off to all the daddies. From Hipprocrates, Father of Medicine; to Aristotle, Father of Biology; to John Kerr, Father of Miranda.
I can't forget the mums either, from Marie Curie, Mother of Nuclear Science; to Florence Nightingale, Mother of Nursing; to Therese Kerr, for previously mentioned reasons.
Big shout out also to Charles Babbage, Father of the Computer. Babbage was the inventor of an early computer known as the "Difference Engine", which was never fully constructed in his lifetime. Amazingly in 1991, a perfectly functioning Difference Engine was constructed from Babbage's original plans. The success of the finished engine indicated that Babbage's machine would have worked. Just think, if only people had backed Babbage on Kickstarter, Gavrilo Princip might have been so stuck on Level 147 of Candy Crush that he wouldn't have looked up when Franz Ferdinand took that wrong turn, sparing us that whole, nasty First World War. Indeed Ferdinand's driver probably wouldn't have gotten lost in the first place if he'd had access to a reliable NavMan…
Kudos too to Pythagoras for introducing us to the wonder of triangles, to Archimedes for his revolutionary bath work, and to Pavlov, Schrodinger and Isaac Newton for their excellent work with household pets. What?!
"Sir Isaac Newton, renowned inventor of the milled-edge coin and the catflap!"
"The what?" said Richard.
"The catflap! A device of the utmost cunning, perspicuity and invention. It is a door within a door, you see, a …"
"Yes," said Richard, "there was also the small matter of gravity."
"Gravity," said Dirk with a slightly dismissed shrug, "yes, there was that as well, I suppose. Though that, of course, was merely a discovery. It was there to be discovered… You see?" he said dropping his cigarette butt, "They even keep it on at weekends. Someone was bound to notice sooner or later. But the catflap … ah, there is a very different matter. Invention, pure creative invention. It is a door within a door, you see."
― Douglas Adams, Dirk Gently's Holistic Detective Agency
To the Renaissance men, from Copernicus who showed us we weren't the centre of the universe (are you listening Biebs?), to Da Vinci's helicopter (and he painted a bit too, I hear?), to Paracelsus, who is remembered for his advancements to medicine – but who should really be best known for introducing the word "bombastic" to the vernacular. Shaggy, I think you owe Paracelsus some royalties…
 To the early 20th Century geniuses, from the glowing Marie Curie, to Einstein – the unwittingly, indirect destroyer of Hiroshima, to the brilliant and oft under-recognised Nikola Tesla who ultimately brought us WiFi and electricity. Bless you Mr Tesla – *sniff* – bless you.
Incidentally, I love this photo below, taken at the Solvay Conference in 1927. It is basically a compilation of the "rockstar" minds of the time. I'd like to think Schrodinger was gazing distractedly off to the side because he thought he glimpsed his cat. I'd also like to think that Planck and Lorentz had a full head of hair before sitting next to Marie Curie. Should have worn your lead hats, fellas…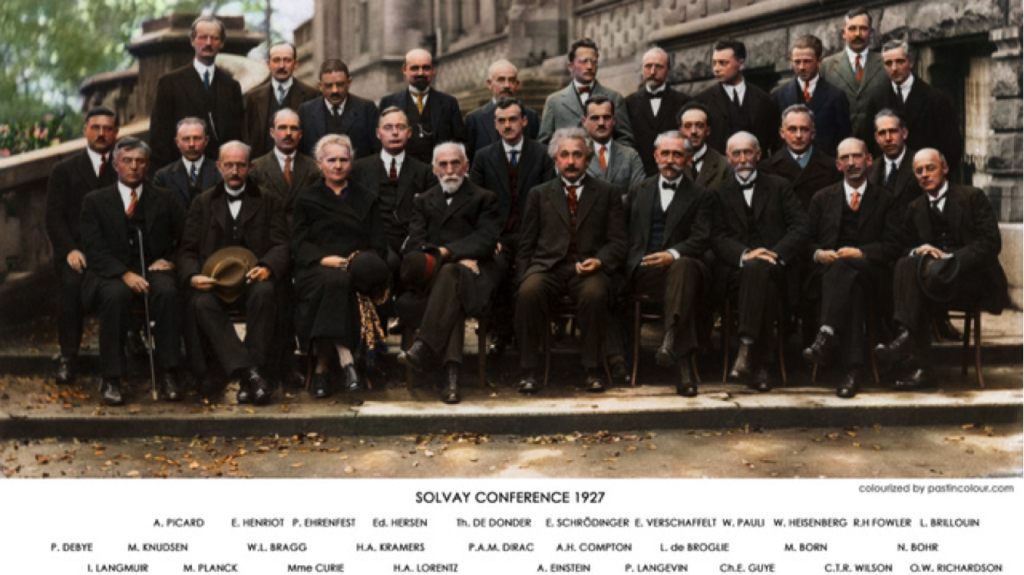 What is also wonderful about science, is that it explains *factually* how we got here.  Thank you to Mr Darwin for introducing us to evolution (although technically thanks should go to Alfred Wallace for first conceptualising it).
"The bombshell comes in 1859 when Darwin publishes On the Origin of Species. It takes a long time before we really get to grips with this and begin to understand it, because not only does it seem incredible and thoroughly demeaning to us, but it's yet another shock to our system to discover that not only are we not the centre of the Universe and we're not made by anything, but we started out as some kind of slime and got to where we are via being a monkey. It just doesn't read well."  Douglas Adams – The Salmon of Doubt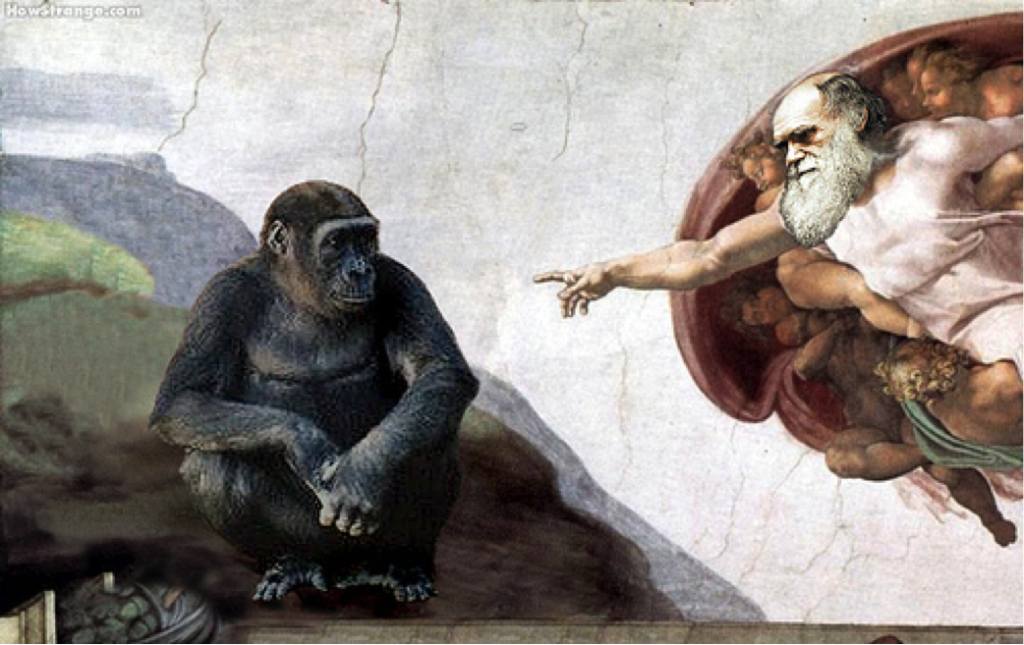 But I think the Hickey brothers from "My name is Earl" put it best:
Randy Hickey:                      Did you know that before we were humans we were monkeys?
Earl Hickey:                            Really? What were we before monkeys?
Randy Hickey:                      I don't know. I can't even remember being a monkey.
 Thanks finally to the modern day scientists who keep science in popular culture, from frequent Guest Star of the Simpsons – Stephen Hawking, to "We got a Badass" Neil deGrasse Tyson, to those well-paid, but loveable scienticians in that documentary series, The Big Bang Theory.
"If every trace of any single religion were wiped out and nothing were passed on, it would never be created exactly that way again. There might be some other nonsense in its place, but not that exact nonsense. If all of science were wiped out, it would still be true and someone would find a way to figure it all out again." ― Penn Jillette, God, No! Signs You May Already Be an Atheist and Other Magical Tales
"The good thing about science, is it's true whether or not you believe in it" – Neil deGrasse Tyson
Thanks Neil. You truly are a badass.
6. GAME OF THRONES
I haven't read the books, so I can only speak for the show, but for a TV program to have the following interchange, proves to me that this planet is alllll-right.
The Hound:                            Of course you named your sword.
Arya:                                          Lots of people name their swords.
The Hound:                            Lots of cunts.
Doesn't that just warm the cockles of your heart? Even the subcockles?
A slew of complex characters. Witty scriptwriting. Numerous interwoven subplots. Subterfuge and deception. Surprises aplenty. I simply can't get enough of it.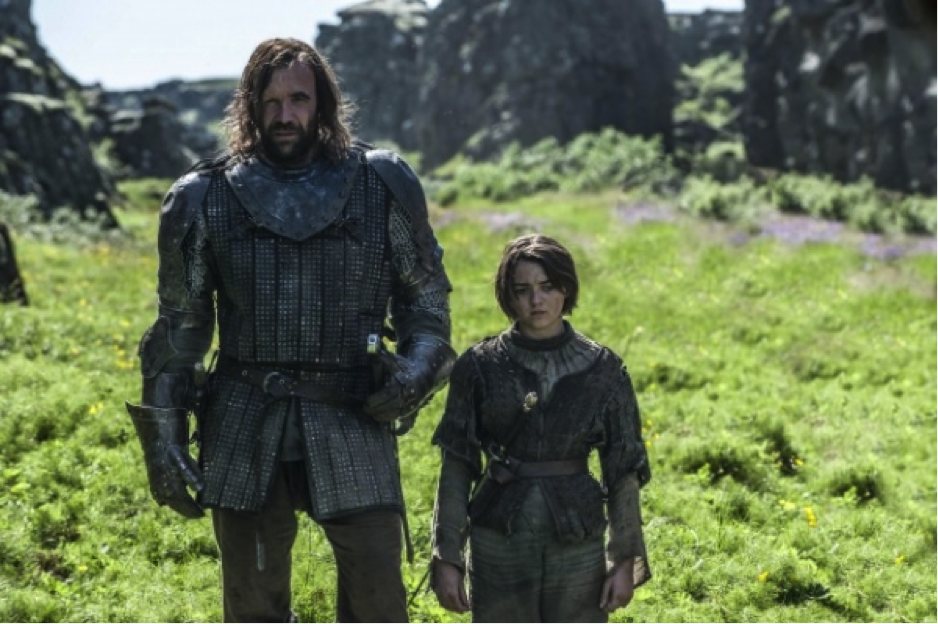 7. IRONY
I love irony.  Particularly of the paradoxical, incongruous kind.  For example:
But again, I shall defer to those who can articulate better than I can. Watch as Irish comedian Ed Byrne goes to town on Alanis Morissette's ironically named ditty, "Ironic". In fact, a more ironic song, in light of recent nuptials, would be Kanye West's "Gold Digger"…
To quote Ed Byrne, "That's not ironic. That's *unfortunate*".
Ironically, at the risk of contradicting my previous post, where "People" were one of the reasons I don't want to live on this fucking planet anymore, I must attach a codicil. I admit to loving gullible people, as they are much more fun to flame, troll, and generally mess with. There are fewer things more enjoyable in life, than poking a bigot with a metaphorical stick.
8. FLYING FIRST CLASS
Why?
Private "suite" – no armrest wars and wider, more comfortable seats with unlimited legroom, and a dinner table -incase- want to invite guests up from Business Class or Coach!
Quality materials and impeccable finishes, larger windows with electronic blinds and a closet for storage
Turndown service – seat reclines into a 2 m long fully, flat bed with quilted mattress, crisp white cotton duvet and pillow with complimentary cotton pyjamas – a cosy Gaz, is a happy Gaz
Complimentary toiletries – a moisturised Gaz, is a supple Gaz
Large screen multi-media entertainment system – an entertained Gaz, is a distracted Gaz
Room for laptops and other devices, as well as in-seat power supply for charging said devices – a fully charged Gaz, is an un-tilted Gaz
Chef prepared dining – when and how it suits you – a full Gaz, is a contented Gaz
Wide selection of quality wine and beverage options – a drunk Gaz, is… well… drunk. But a mighty tipper!
Access to the First Class Lounge at either end of your journey with discreet booths, full waiter service, private cabanas and a state-of-the-art business suite
Well there's not much more I can say. But this picture says it all. Needless to say I never fly Coach.
9. THREE MICHELIN STAR RESTAURANTS
In 1900, the Michelin Brothers released an automobile touring guide for France, despite there only being 3,000 registered motor vehicles, and the roads that existed being primitive at best.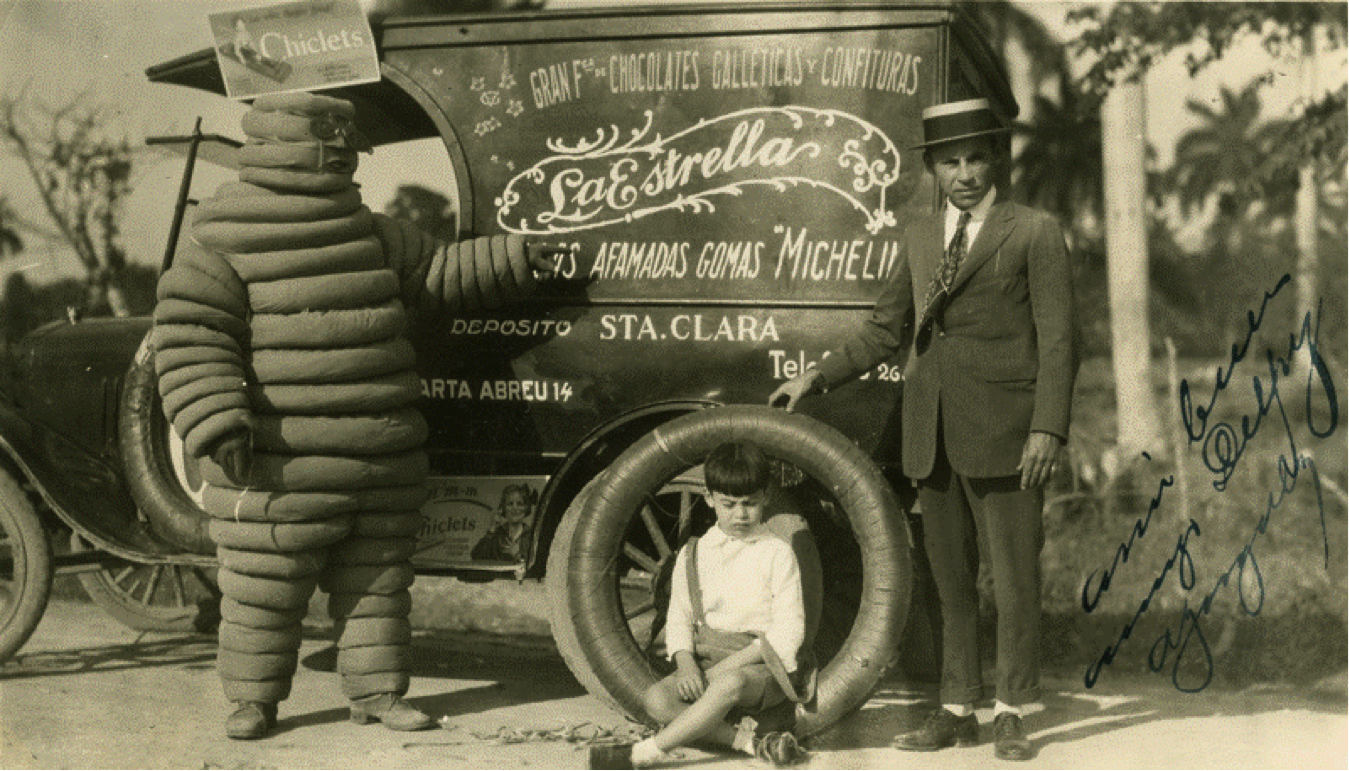 The Michelin Man. Creeping out small children since 1898. Nice to see Harvey Keitel hasn't aged a day, however.
The Michelin Star system wasn't born until 1926, with the creation initially of a single dining star. In 1931 the system was expanded to include the second and third stars.
By 1936, the definition of the stars was established…
One Star:               A very good restaurant in its own category
Two Stars:            Excellent cooking, worth a detour
Three Stars:        Exceptional cuisine, worth a special trip
… and the system hasn't changed since.
The guide has become so revered that it has the power to make or break a restaurant, and shatter the souls of elite chefs. In fact, Chef Bernard Loiseau shot himself in the head with a hunting rifle after rumours that his restaurant was to be demoted from three-stars to two in 2003. It wasn't.
Currently, there are 117 – 3 Star Michelin Restaurants in the world. Indeed, you may be surprised to learn that the country with the most 3 Star restaurants is actually Japan, not France.
I've had the pleasure of dining at quite a few (actually over half of them including 19 of the top 20), and they are on the whole, quite simply, brilliant.
They range from the small (and frankly bizarre) Sushi Saito, which was housed in a multi-story car park opposite the US Embassy in Tokyo, and seats just 7, to the exceptional, 'molecular gastronomic' experience that is Heston Blumenthal's Fat Duck. I particularly enjoyed the Mock Turtle Soup.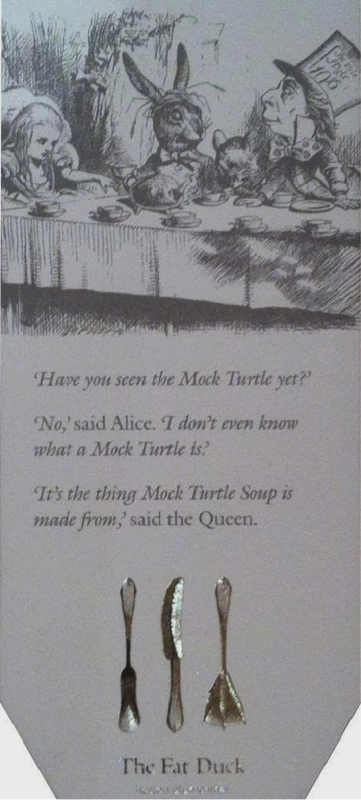 I had the fortune to meet Heston at a celebrity media event, and have had the pleasure of being his guest at The Fat Duck on several occasions since.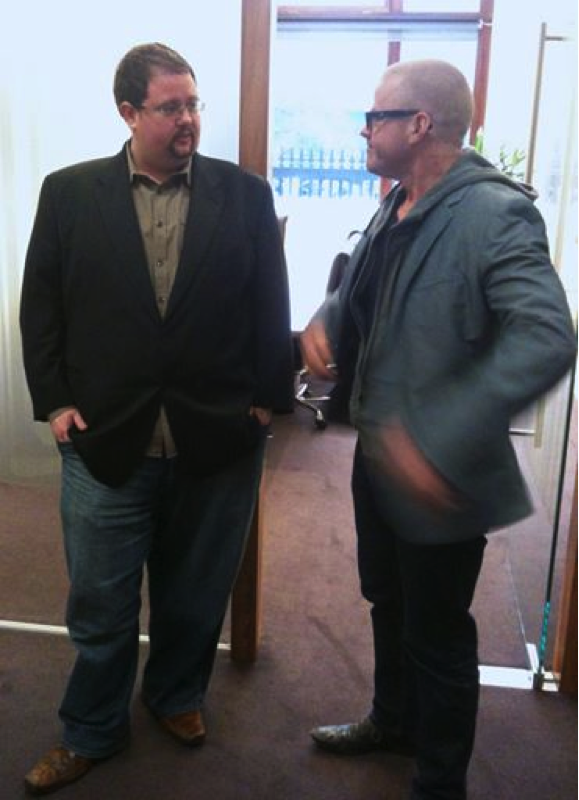 What did you say? Pretentious? Moi?!
Snobbiness aside, you should attempt to visit at least one 3 Michelin Star restaurant in your lifetime. You won't regret it, and it's a nice one to tick off your bucket list.
10. LAST, BUT NOT LEAST, SMURFS!
Or as they should be known, Les Schtroumpfs.
Whatever you call them, I love those little Commie bastards!