The Zombie Apocalypse is upon us!
Is it any coincidence that an anagram of "The Zombie Apocalypse" is "Zesty Ebola Hippo Came"?
Yeah…
Think about it…
But here are the cold facts. The World Health Organisation currently predicts that within a mere two months, there will be up to 10,000 new Ebola cases PER WEEK in West Africa.
If this assessment wasn't grim enough, they are also predicting that the death rate will be around 70% – which is fearfully high for any disease.
"So Professor Gaz, without knowing precisely what the danger is, would you say it's time for our viewers to crack each other's heads open and feast on the goo inside?"
"Yes I would, Kent".
For those of us fortunate enough to live in the first world, we are relatively safe. For now.
The good news? Ebola is not highly contagious.
Wait, what?! But Prof Gaz, just above you say it is spreading like wildfire?!
I did. But calm the fuck down.
Ebola is not easily transferred – unlike influenza or other airborne diseases that can be transmitted through sneezing, for example.
Ebola may only be acquired upon contact with blood (or other bodily fluids… yurghh) of an infected human or animal. The virus can enter the body via infected droplets (blood, vomit, faeces, semen… I repeat, yurghh) through broken skin or mucous membranes such as the eyes, nose or mouth.
Since it is not airborne like flu, very close direct contact with an infected person is required for the virus to be passed on. Infection may also occur through direct contact with contaminated bedding, clothing and surfaces, or contaminated medical equipment such as needles, syringes or surgical tools, but again it requires close, direct contact.
Once Ebola is inside you though, it rapidly multiplies in the blood, taking over and attacking cells, and replicating itself.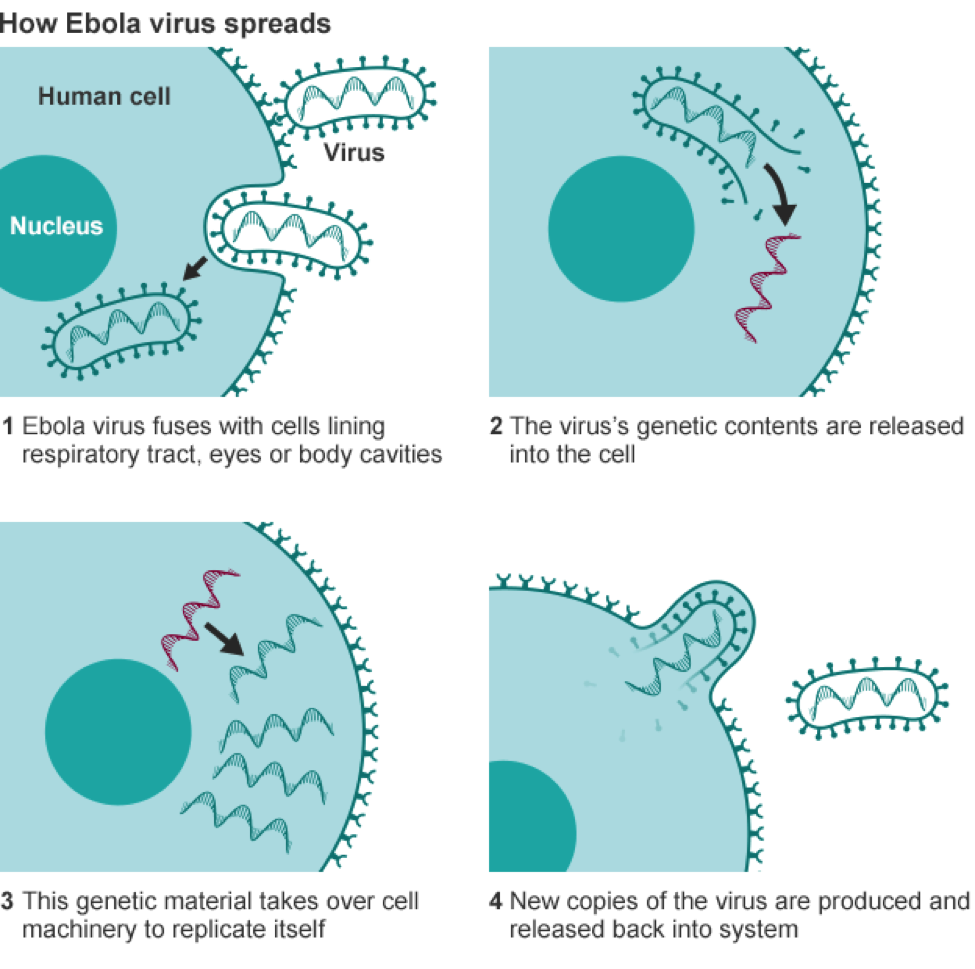 Ebola, I don't want you inside me.
However, since close, direct contact is the only way it is transferred, Ebola "in theory" should be simple to control and contain. But then again "in theory", Communism works.
So why is Ebola escalating? Why can't we control it? Why can't we contain it?
There are a multitude of reasons, but these are the key ones.
The Lack of a Cure, Fear, Money, Education, Stigmatism, and Bats. Fucking bats. Let's run through them.
Lack of a Cure
Since Ebola was first identified in 1976, every outbreak has been contained with strict hygiene – isolation of patients and suspected patients, ensuring staff wore suitable protective clothing, and properly carried out cleaning and disposal of clinical waste.
There have as yet been no drugs to do the job because developing them is extremely expensive, and, until now, the major pharmaceutical companies have not seen enough of a market to justify the effort. That's changing, fortunately, but we're not there yet. Scientists are logically focusing their efforts on two approaches:
treatments to help people already infected with the virus
vaccines to protect people from catching it in the first place
Both are in clinical trials, but the forerunning treatment has been fast-tracked into production, and with some success.
"Fuck the clinical trials", say those who are infected. "Test on me. What's the worst that can happen?"
The Zombie Apocalypse. That's the worst that can happen. But with the recent proliferation of zombie films flooding the market, no-one can say they're not at least partially prepared…
*Gaz taps his ol' faithful baseball bat*
Fear
The greatest fear, is fear itself.
Bullshit. The greatest fear is fucking zombies. Then clowns. And then maybe fear. But zombies are definitely first. And don't get me started on zombie clowns.
Fear should be the reason why we ARE striving to contain Ebola. Fear is a justifiable feeling, given the circumstances. Ebola is fucking terrifying.
But fear can also hamper the process. The problem is that many individuals fear that they will be isolated if they so much as sneeze. So they hide away until the symptoms become too severe. By then, there is an increased chance of transmission to others, and a higher chance of mortality.
Money
The Australian Government has committed around $18m in financial assistance towards fighting the disease. Sounds nice, but Mark Zuckerberg and his missus have just committed $25m, and Bill and Melinda Gates last month donated $50m. Which kind of puts things in perspective.
*Australia has also drawn the line at sending health care workers to assist on the ground. That message alone feeds the fear notion. "If trained professionals won't help us, what can we do?!" And they're right.
The problem? Developing a cure is downright expensive. And the large pharmaceutical companies have not yet deemed that the cost justifies the focus of effort, for the relatively small volume of product that would have needed to be dispensed for previous, smaller outbreaks. But with the current outbreak being the largest ever, they must be getting close to a tipping point.
However the potential for a preventative vaccine should have the pharmaceutical boffins rubbing their hands in greed. What's the population of Africa again? Did someone say "Cha Ching"?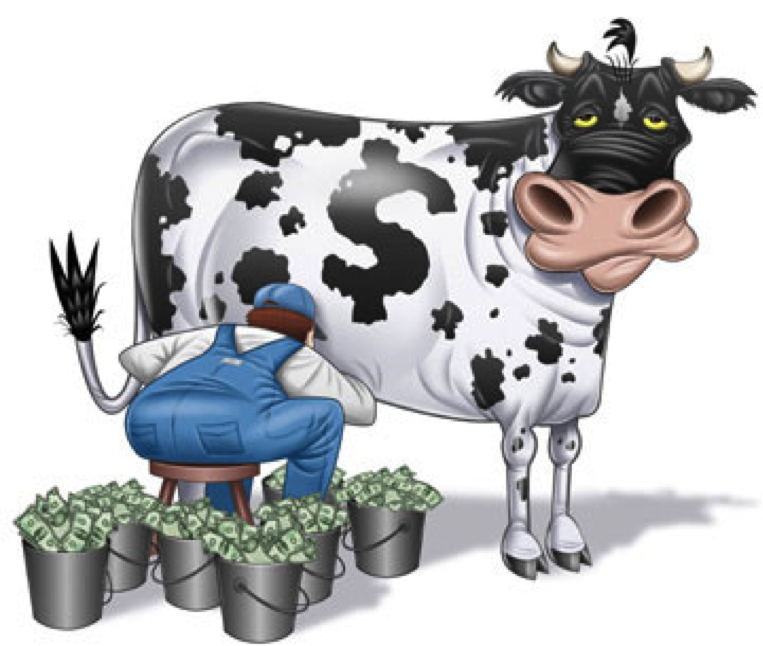 All in all, the World Health Organisation and the UN estimate that they would need roughly $1bn just to tackle the outbreak. So far $507m of that has been pledged by government bodies, private businesses and individuals. So we're halfway there, which is encouraging. But we're still only halfway towards what is a massive, massive number.
Education
Probably the two key battles here are embedded cultural customs and the lack of literacy.
In terms of culture, there are a swag of customs and habits that contribute to the spread of Ebola. The proliferation of "bush meat" in the diet, burial ceremonies where families are intent on hugging the deceased, and a general lack of hygiene – seriously, so few carry hand sanitiser in their purses…
There is also a problem when the target community has a poor ability to read. If you can't read, this sign seems to tell you that hugs, pouring your pumpkin spice latte over your hands, thumb wrestling, keeping exotic pets and Nanna's secret recipe, fruit bat stew will all help to keep Ebola at bay.
That sign really needs those red strikeout lines through the circles, Ghostbusters style. Think marketing people, think! It's not rocket surgery.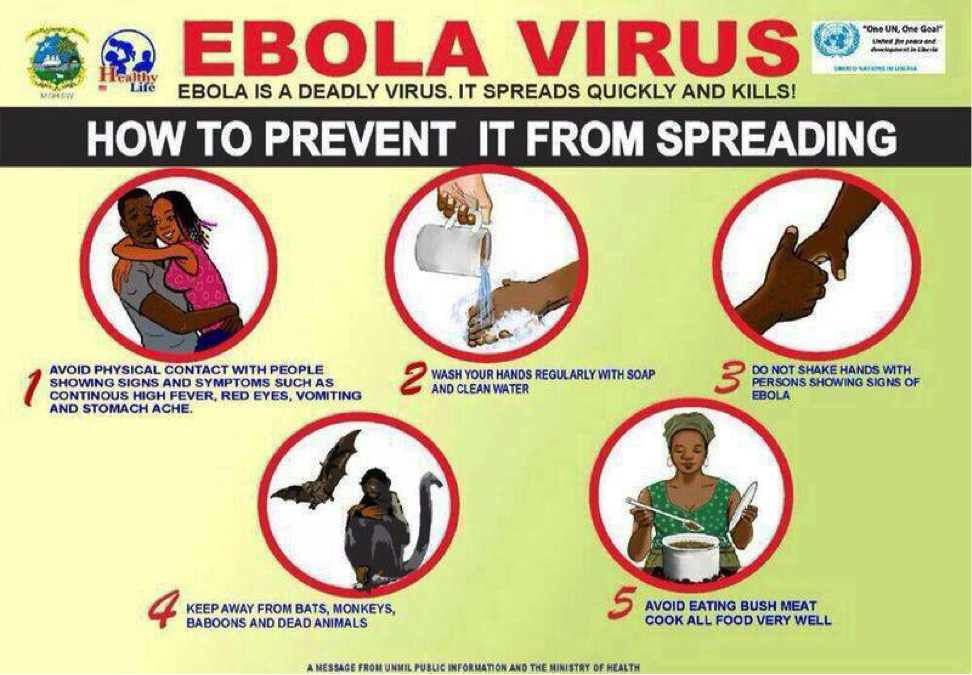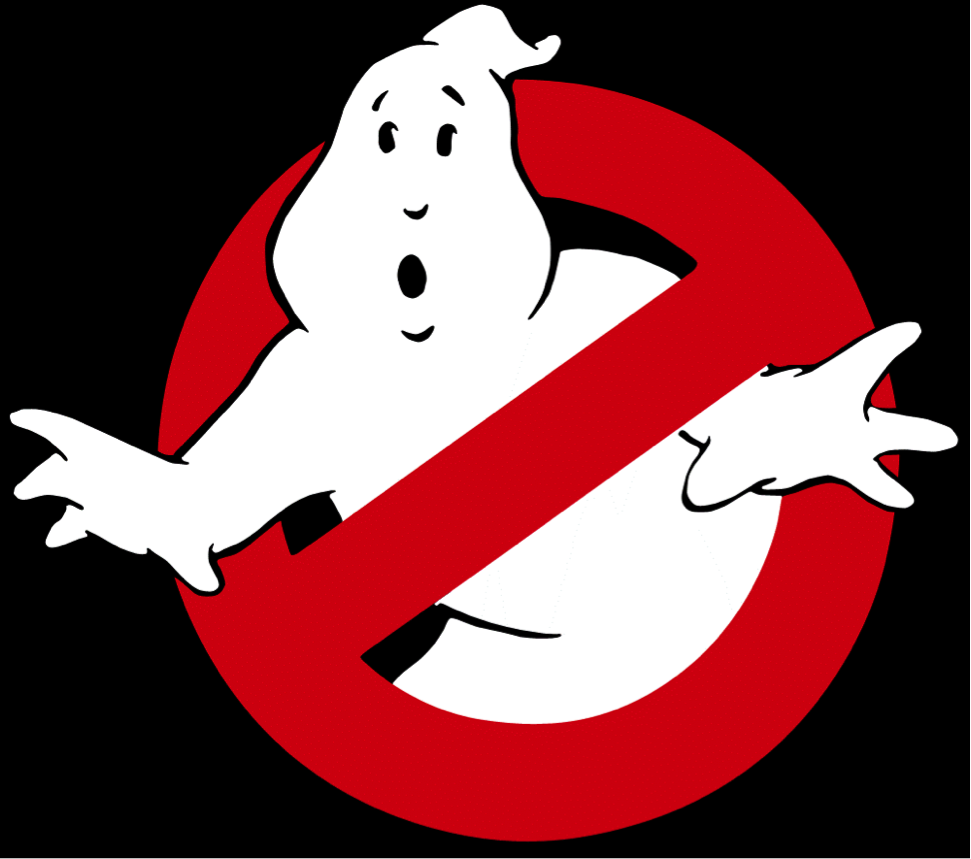 Hands up those that now have the Ghostbuster theme stuck in their head. Sometimes I wish Ray Parker Snr had just opted for the blowjob…
Stigmatism
Aside from the stigma faced by Ebola survivors, or families of those who died – which is terrible in itself – it is the stigma relating to the perceived risk of allowing care workers into villages for fear of them bringing contamination with them that is the major fly in the ointment.
Don't get me wrong. It's natural, human nature. But it is hamstringing the ability to control the disease.
Many Ebola patients who are treated in hospital EARLY will survive and recover. The earlier the treatment, the greater the odds of recovery. If health professionals are blocked from reaching infected communities due to the stigma of the perceived risk of these health professionals *bringing* the virus with them, then the potential for early treatment is eliminated. Furthermore, it impinges on the ability for sanitising and disinfecting affected communities and controlling the spread.
Again, this harks back to education. And in the third world, it is much more difficult to spread the true message.
Bats, Fucking Bats
Namely fruit bats. These fuckers can be Ebola carriers. "That's great, I fucking hate bats", you say. "I hope they all die of Ebola".
The problem is, bats are immune to the virus. As if there was another reason to fucking hate bats.
Side Note: Talking about hatred of bats reminded me of a funny bit by Chris O'Dowd on the Graham Norton Show. He is a funny bugger:
The fact that bats are immune is one of the key reasons why Ebola is difficult to contain. Bats continue to spread the virus, even if the human spread is controlled. This is why there have been repeated, but well spaced-out breakouts in Western and Central Africa since the first Ebola outbreak in 1976. Again, the bats either can't read, or worse – totally ignore, all of the Ebola advice signage. Fucking bats.
And to all of my Australian friends. Please note the regions marked with dotted lines, in which these fruit bat carriers currently proliferate: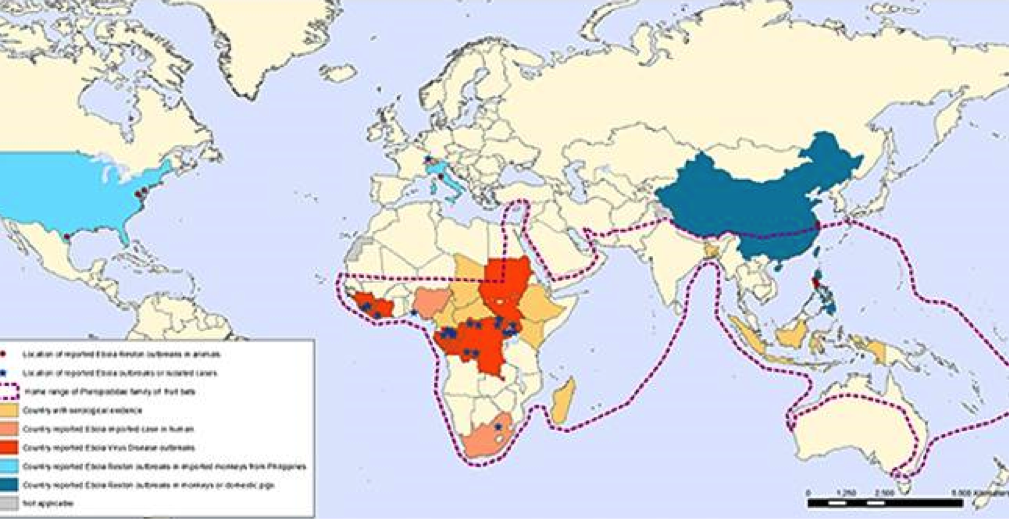 Fuck you New Zealand!
So what now, good reader?
Reach into your pockets, friends and donate some of your hard-earned.
The "Centre for Disease Control" and "Doctors Without Borders" are currently channelling their efforts towards the Ebola crisis in West Africa.
You could do a lot worse than to send a few pennies their way.
http://www.cdcfoundation.org/globaldisaster
http://www.doctorswithoutborders.org/our-work/medical-issues/ebola
Failing that, start working on your double-tap.